Robert Pattinson & Kristen Stewart frosty behind the scenes?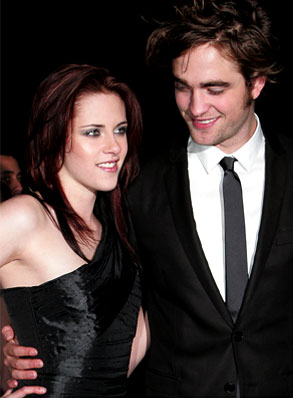 Robert Pattinson
and
Kristen Stewart
haven't been behaving very lovey-dovey behind the scenes!
According to British newspaper The Sun, the Twilight costars who are rumored to be dating were "frosty" towards each other at the recent MTV Movie Awards.
"They were very lukewarm considering they are meant to be the golden couple. It seems they are far hotter in front of the camera than off," a source said.
"Behind the scenes things seemed a little frosty. They passed each other several times on their many trips to collect or present awards and sometimes didn't even speak. "
Recent reports claimed Rob and Kristen are headed for a split because Pattinson wants to be single.
"Rob may soon be a single man he loves Kristen, but has suggested they have less in common," a source said.
"He seems to be finding the relationship tough at the moment sometimes Kristen just wants to stay in watching films or listening to Bob Dylan. Their hectic work schedules mean they're spending less and less time together and things seem to have become more distant between them.
"Rob is becoming one of the most in-demand actors around. He's finding it hard to juggle work and a relationship, but he's torn because he finds it hard to imagine splitting up with Kristen as they experienced so much on Twilight together.
"She helped him become the star he is today. He'll always feel loyal to her because of that."