Billy Bob Thornton daughter guilty of manslaughter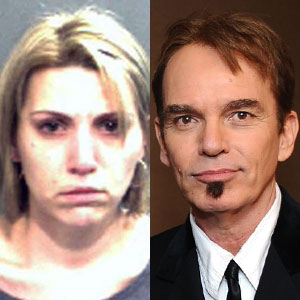 Billy Bob Thornton
's estranged daughter Amanda Brumfield has been convicted of aggravated manslaughter in
the death of a 1-year-old child
.
The conviction stemmed from the October 2008 death of young Olivia Madison Garcia, the daughter of Brumfield's best friend.
While the 31-year-old was found guilty of manslaughter, she was acquitted of both first-degree murder and aggravated child abuse, the Florida State Attorney's Office disclosed to the
Orlando Sentinel
.
Brumfield's defence team maintained that Garcia died accidentally after falling from her playpen and worsening an existing injury during an overnight stay at Brumfield's home.
Prosecutors countered the claim by insisting it was "impossible" for the girl to have sustained a three-and-a-half inch skull fracture by simply falling a few feet.
Brumfield will face sentencing in July.
Oscar winner Thornton fathered Brumfield in 1979 with his first wife Melissa Lee Gatlin, but the actor's relationship with his daughter is believed to have been strained in recent years.